Owen Brucker Abbey served in the US Navy with the Seabees (Electricians Mate) during WWII.  In his 1943 Bluejackets Manual he recorded his unit as 140 NCBN PLT3 CO "B".
Bootcamp was in Great Lakes. Then combat training at Camp Lejeune. And another base in Rhode Island. Then to Port Hueneme for deployment.
He was deployed to the South Pacific and spent time on Los Negros and Manus Islands.    He wrote frequently, was lonely, and sent all his earnings home.  He made some extra money cutting hair and with photography.  Shown in photo below climbing a palm, stringing wire. On the back he wrote "High as I go".
He survived the war and bought property in northern Michigan around Half Moon lake and operated it as a resort. Later he worked for Oldsmobile as an electrician in Lansing. While working there he purchased the house that I grew up in on Lake Lansing.  He died in 1962.
Dad said he did not talk much about the war.  I was born in 63.
The story of the SeaBees is told in a book entitled "Can Do" by William B. Huie (ISBN 1557503796). "Can Do" is the motto of the SeaBees.  It is a great read.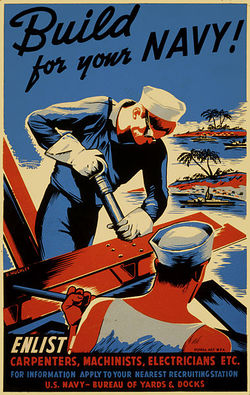 During the early part of the war, civilians were employed to construct bases.  When civilians are captured, the paychecks stop, family starves.  In creating the Seabees, the Navy recruited skilled construction tradesmen, already trained in a trade, to build bases, and fight when necessary, toward the goal of sustained combat operations in Japan.  They were building a road,  across the Pacific to invade Japan.  They build, they fight.
The Seabees logo is a bee carrying a tommy gun, a wrench and a hammer.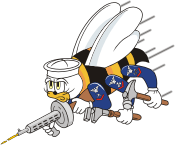 They were able to build bases with few resources.  They invented a thing called the pontoon that made the D day invasion possible.  They supported the Marines with hot food at the front and even digging foxholes for the wounded.  They went ashore alongside the Marines, sometimes before or shortly after.  They filled the bomb craters in runways as fast as the japs could bomb them.  They constructed new runways in record time using natural materials and steel "marston mat".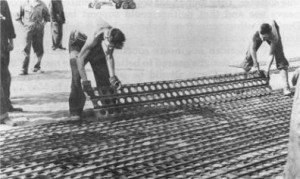 They were part of the greatest generation that fought and won World War II.  And I look forward to burgers and dogs this weekend, rather than fishheads and rice, thanks to them.